Welcome to the Lois & Clark: The New Adventures of Superman Wiki
Characters
Clark Kent/
Superman
Lois Lane
Lex Luthor
Perry White
Jimmy Olsen
Catherine "Cat" Grant
Jonathan Kent
Martha Kent
Seasons
Videos
Featured Article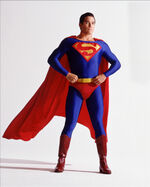 Clark's Costume
was created as a disguise so that Clark could lead a normal life but also use his superpowers to help others without being recognized.
Martha made this costume specially for him and he is extremely proud of it.
Clark kept his costume hidden under his civilian clothes so he could quickly change when he was needed in action.
Read more >>
News
Teri has her own exciting YouTube channel dedicated to having a positive outlook on the changes in life.
You can access it by clicking here
Live action:
Arrowverse (Arrow, Batwoman, Birds of Prey, Black Lightning, Constantine, DC's Legends of Tomorrow, The Flash (1990), The Flash (2014), Supergirl) • Batman • Doom Patrol • Gotham • Green Lantern • Human Target • iZombie • Krypton • Lois & Clark: The New Adventures of Superman • Lucifer • Pennyworth • Powerless • Preacher • Smallville • Stargirl • Swamp Thing • Titans • DC Universe

Animated:
Batman: The Animated Series • Batman: The Brave and the Bold • Beware the Batman • DC Animated Universe (Batman Beyond, Justice League, Justice League Unlimited, The New Batman Adventures, Static Shock, Superman: The Animated Series, The Zeta Project) • Green Lantern: The Animated Series • Harley Quinn • Justice League Action • Super Friends • Teen Titans • Teen Titans Go! • Young Justice
Community content is available under
CC-BY-SA
unless otherwise noted.